Your Expert Brick Shutter Company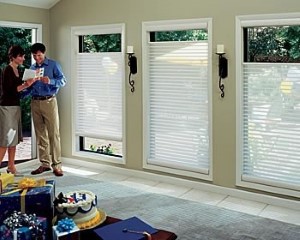 There are lots of things that Brick, NJ is known for. If you've lived here forever, then you know what the weather is like. The average in January drops to sometimes sub-zero temps. Slats & Pleats can help retain the heat in your home through Brick widow treatments. Our Brick Shutter Company can make your home all the cozier.
Our Shutter Company can keep you from freezing this winter and sweating in your own home this summer with shades, shutters or blinds. Get your home prepared for the extreme weather months and see how relaxing your home can really be.
Our window treatments are valuable because they actually help home and business owners cut back on the amount of electricity they use cooling their homes off.
Brick Shutters
Before going out and buying new shutters, there are a number of things that you should know about them. You shouldn't go out and buy window treatments spontaneously because you'll end up getting the wrong ones that you will not be happy with. Let our shutter company get you Brick Shutters which offer:
Fixed and movable louvers – The louvers are the slats or horizontal pieces of the shutter that move up or down.
Different size shutters – Most interior shutters measure 3-1/2 inches to 5-1/2 inches in depth. You can have them customized to fit any type of window though.
Material options – As far as material go, the best two options are wood & PVC. The PVC versions are durable and mimic the look of wood.
Brick Wood Blinds
Brick Wood Blinds come in a "faux" style. They are not real wood but crafted from a PVC material blended with wood particles that make them inexpensive and easier to put in areas with moisture conditions. The wood-like blinds are great for homeowners looking to have window treatments in the bathroom or kitchen.
Over time, wood will warp. Aging wood warps faster if it's exposed to water. The upside to using faux wood blinds is that they can be hung outdoors too. The weather will not affect them due to the materials that they are made from.
Evaluating your long term needs is something that should be considered before picking out a window treatment for the home. When faced with the decision, you have to decide between what's going to work best for you.
Another benefit to using our Brick shutter company is that faux wood blinds are a lot cheaper than wood blinds. Wood blinds are the perfect option for those just starting out who like the look of real wood but cannot afford the actual product.
Recent Articles
Best Wood Blinds for Your Money in Point Pleasant

If you are on a tight budget like most people are and are in search of wood blinds in Point Pleasant, there are several good reasons why you should research the product. The good news is that you can now get blinds just about anywhere in your area. But good solid blinds are hard to…

Read More

Shutters vs Shades vs Blinds – Which One is Right For You?

One of the joys of being a homeowner is getting to make selections about your home, including window treatments. Some homeowners prefer the same uniform look throughout the entire house while others like for each room to have its own distinct look. No matter what it is that you decide upon, choosing the right window…

Read More

If you are looking for a Brick Shutter Company then please call 732-475-9300 or complete our online request form.