Polycore Shutters in Point Pleasant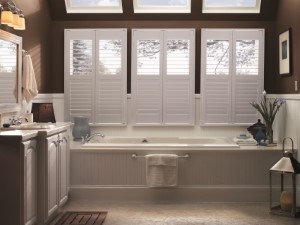 If you are in need of Point Pleasant Polycore Shutters for your home's windows, then call Slats & Pleats. These are great shutters for your home's interior as they are made from a durable co-extruded aluminum core. We will bring them to you as we have the experience and hard working professionals who can get the job done right. There is no need to call anyone else as we can make your windows look better and cut down on the energy spending in the home. You can trust your Point Pleasant Shutter Company as we care about your window treatments and want the best ones for your home.
Characteristics of Polycore Shutters
Our shutters have a baked on waterbone paint that makes them fire retardant and resistant to extreme moisture. They are great for standing up against the heat and the cold temperature. You will love them for those attributes among many others.
Making a Fashion Statement with Polycore Shutters
Point Pleasant polycore shutters are a striking feature to have in the home as they are made of extraordinary quality and fashionable details. They carry the same grace that wood plantation shutters do, but the matter and reliability of synthetic shutters.
Modern Day Shutters
If you're looking for a modern shutter with a style all their own, go with shutters from Slats & Pleats. You'll get what you pay for whenever you get them installed through as we are professional and knowledgeable whenever it comes to window treatments.
Local Design Consultations
Our design consultants are well trained and knowledgeable in window treatments. We will help you choose the best possible shutters regardless of the type and style. Our design consultants know our customers well and what they want in window treatments as we're locally owned.
Guaranteed Installations and Measurements
We guarantee our work and think that you'll find our quality outstanding. You'll always find helpful consultants at the best possible prices. We will come to your home and measure accurately for the installation of your new window treatments.
What to Look for in a Window Treatment Specialist
Knowledgeable – You want someone that can hang your shutters who are able to hang them evenly and accurately.
References – Any contractor that you go with should have some experience in the field along with professional references.
Variety – Variety helps you get the right window treatment at the right price. Variety also provides you with options.
Professionalism – When you finally get a shutter contractor you want, always test their professionalism as that goes a long way in accordance with customer service.
If you need Point Pleasant Polycore Shutter Installation in your home, all you have to do is call our window treatment experts for help. We will take care of your needs.
Our Point Pleasant Polycore Shutters Provides These Detailed Services
Polycore Shutters
Interior Shutters
Exterior Shutters
Polycore Window Shutters
Window Shutters
Vinyl Shutters
House Shutters
Custom Shutters
Louvered Shutters
Synthetic Shutters
Outdoor Shutters
Indoor Window Shutters
Recent Articles
Introducing Elegance through Marlboro Polycore Shutters

If you are looking to add elegance into your home, listen up! If you do, there are a lot of ways of going about getting the right Marlboro polycore shutters. You can modify your home in many ways. New window treatments are affordable and add that touch of style that leaves a long lasting impression…

Read More

If you are looking for Polycore Shutters in Point Pleasant then please call 732-475-9300 or complete our online request form.