Top Notch Woven Wood Shades in Point Pleasant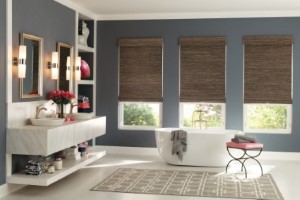 Looking to add some excitement to your ordinarily boring windows? You could spruce up your windows with Point Pleasant woven wood shades from Slats & Pleats. We sale and install the best there are in the New Jersey area from names like Hunter Douglas you can't go wrong. Our Point Pleasant Woven Wood Shades are longer lasting and come in lots of different varieties. Call our Point Pleasant Shutter Company today and start enjoying your new window treatments tomorrow. We are the leaders in window treatments in the area that can have them custom fitted to your liking.
Woven shades go by other names such as matchstick blinds and bamboo shutters. They have all do the same thing and are different from blinds as they have a flat-like appearance. These blinds have a natural look that cannot be found in other types of window treatments.
Appearance of Woven Wood Shades
Woven Wood Blinds can bring out any room's interior of the home. Woven treatments can be a perfect fit for you as they have lots of great features some of which are natural materials such as different reeds and grasses.
Benefit of Woven Wood Shades
A benefit of Point Pleasant woven wood shades is they are able to adaptable to almost any type of window in your home or business. They are perfect for rooms of the home where you want some light but not too much as well as:
Privacy
Earth-friendly
Natural materials
Better Light Control
Woven shades are good for controlling the amount of light that comes into your home from the sun's rays. Having your favorite program ruined by a blast of light coming in from the outside is enough to ruin one's day.
Matching the Interior
Window treatments have been used a lot when it comes to interior decorating. Treatments are the best way to see what works with what interior. You should be on the hunt for treatments which can match your furniture and flooring along with other interior décor.
Options and Varieties of Woven Wood Shades
If you are looking for durable options for your windows, the woven shade comes in different varieties and styles. These are not just a stylistic type of shade but also a fully functional one that can be closed or open for light transfer.
Beautifying the Home
There is something that Point Pleasant Woven Wood Blinds can do that most cannot and that is beautifying the home. It can be tough to find the right, perfect fit for new window treatments. We have just what you're looking for. Call today and schedule your free measurement.
Our Point Pleasant Woven Wood Shades Provides These Detailed Services
Woven Wood Shades
Custom Wood Shades
Cordless Wood Shades
Woven Wood Shades Installation
Roman Wood Shades
Real Woven Wood Shades
Woven Wood Shades Company
Point Pleasant Woven Wood Shades
Bamboo Wood Shades
Matchstick Wood Shades
Dark Wood Shades
Woven Wood Shades in Point Pleasant
Recent Articles
Introducing Elegance through Marlboro Polycore Shutters

If you are looking to add elegance into your home, listen up! If you do, there are a lot of ways of going about getting the right Marlboro polycore shutters. You can modify your home in many ways. New window treatments are affordable and add that touch of style that leaves a long lasting impression…

Read More

Shutters vs Shades vs Blinds – Which One is Right For You?

One of the joys of being a homeowner is getting to make selections about your home, including window treatments. Some homeowners prefer the same uniform look throughout the entire house while others like for each room to have its own distinct look. No matter what it is that you decide upon, choosing the right window…

Read More

If you are looking for Woven Wood Shades in Point Pleasant then please call 732-475-9300 or complete our online request form.